This is a special page dedicated to sharing snapshots from our guests, family and friends of TheKiheiCondo on the beautiful island of Maui. If you'd like to share a memory or comment on your visit to our condo at Kauhale Makai… please send us an e-mail!  info@TheKiheiCondo.com  You can also join us online at www.facebook.com/iMissMaui (formerly known as www.facebook.com/TheKiheiCondo) 
Everything about our stay was fantastic. There are no negatives here. The owner, Cynthia, was a pleasure to work with. She is very hands-on and takes great pride in her ownership and management of the condo, down to the slightest detail. The condo is a good size for 2 or 4 guests. It has an amazing view. The grounds are beautiful, well kept and manicured. The front office is very accommodating, and check in was a breeze. Pools and hot tub were sparkling clean. The bed was comfortable, and the decor is outstanding. Kitchen is very well stocked with cooking utensils, spices and paper towels. There are many good restaurants and lovely beaches close by. What else can I say? I would recommend this place without hesitation, and hope to return in the future.
We spent a week in this condo and really liked it. The location is ideal, seems to be the quiet part of town away from the resort centres. Lovely beach and lots of conveniences within walking distance. Condo is very comfortable and outfitted with anything you might need. – Josh A.
I came alone and found this condo to be affordable and in an awesome location. Watched sunsets every night and had many great restaurants within a short drive. Great beaches in Kihei and along the south coast. Highly recommend. – Stephanie B.
Wonderful condo. short walk to the beach which was lovely to stroll and watch the wind surfers. Close to town was nice too. Not close enough to walk for us, but close. Thank you we had a wonderful time! – Shari S.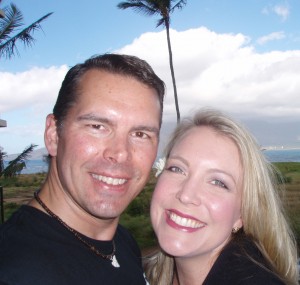 We had a wonderful time at your condo in Kihei. It was furnished beautifully in the island style. It's so well equipped with everything we could need. The balcony was one of our favorite hangouts as we started our days with Kona coffee and breakfast enjoying the breathtaking views (which included humpback whales at times) and at night we would enjoy cocktails and the sparkling lights across the water. Thank you for being such gracious hosts and sharing your little piece of paradise with us.
Aloha,
Heidi and Troy
Medford, OR

What a wonderful find! I did quite a bit of research to find the perfect place for us to stay while we were in Maui. I was looking for an ocean view at a reasonable price in a nice setting. I was a little hesitant about booking through the owner and not an established company, but what a delightful place! Perfectly situated just outside of Kihei and a very quick walk to the beach through a grassy lawn. (bring a flashlight if you go out at night…. frogs everywhere!!) Beautiful room, very well maintained and designed…. with a wonderful view. One bedroom, one bath was perfect for the two of us and only ran us about $650 for 5 night! I would highly recommend unit 310 for anyone looking for a beautiful place to stay in Kihei!! – Audrea H.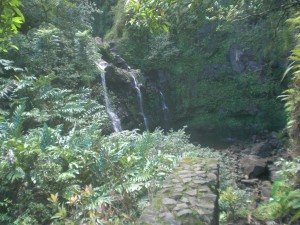 Thanks so much for letting us share your beautiful condo November 8 – 16th. I wanted to let you know that it was VERY clean and well maintained! It was great and can't wait to do it again someday! Attached is a picture of us on your lanai and a beautiful 3 tier waterfall from the drive to Hana. Thanks so much, Craig and Keilene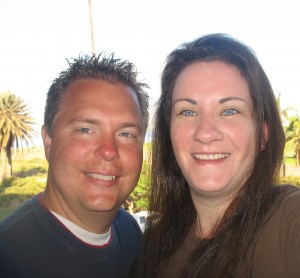 We finally arrived back home and I wanted to do my review while it was still fresh – so here goes: We loved this Condo/apartment! Upon entering I thought, "Yes! – Thank You Lord! – This is Awesome !!" I've used VRBO many times and there is always some concern & apprehension – because pictures usually make the place look better than reality. In this case the pictures don't do it justice. So I was very pleased. The handsome, rich wood furniture, Hawaiian accents, fixtures and pictures – were all put together so well. Attractive tile and enclosure used in the shower area and the plumbing fixtures were very modern and stylish. Even my husband commented on how nice the place was. We both enjoyed the view and the furnishings on the patio, and took turns sitting on the big cozy chair with the matching ottoman. One afternoon we watched 2 "Kite-Surfers?" (not sure what sport this is?) go back and forth right in front of us – an amazing colorful display, with such a beautiful back-drop. We did walk to the beach and found that the waves have carved the sand from the shore line, which would make it difficult for me to get to and from the beach/water. But, we found many beautiful beaches (more suited for me) just down the road. A big plus is that this unit is on the beach side of the road, the majority of the other units are across the street. So I prefer this unit.
Beachcombing Treasures
These photos are some pretty flower pictures I took and some of the coral and stuff washed up after the storm, the Kona Winds I think they called it. The beach was covered with beautiful coral and smooth glass and kelp of all kinds. There were several people gathering a particular type – pretty cool! The Cattle Egret on the beach was also very friendly! Thanks again! I will let you know if we are coming back next year! We might go to another island, although I think we will find that we like Kihei the best.
Fondly,
Jeannie
Covelo, CA